Their holidays with Europe Active
They booked a trip with us. They are back and they tell us how it happened. You're next!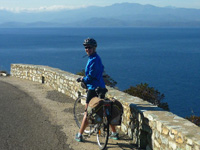 Franck Fulcher
Trip: Around the Cape of Corsica and its Genoese towers
Date: 29 September 2013
A fantastic trip!
A very scenic route with various options to add more hills if you fancied it. The bikes provided by Europe Active were comfortable and well-maintained and had been fitted with new brake pads. Nice hotels, two even had pools! I'd certainly recommend Corsica as a cycling destination and we'll be coming back to try a more challenging trip next time.
---
Date: 19 May 2013
My brother and I have just had a brilliant week on the Enjoy Tuscany cycle trip. The hotel and cycle hire (excellent carbon bikes from Chrono cycles with very knowledgeable staff) were first class. The routes were challenging at times but extremely enjoyable and give the rider a sense of achievement at the end of the day. The views were spectacular. The directions provided were very good but I would reccomend also buying the local map (7.50 Euros). Europe Active provided us with fantastic service and I would reccomend them for your next cycling holiday.
---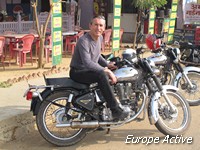 Thierry D.C.
Trip: Rajasthan by motorbike - A great Indian Adventure
Date: 11 December 2011
After Corsica and Hungary, we decide to go to discover Rajasthan, in ROYAL ENFIELD.
From the arrival the occasions of surprise are multiple: town planning, traffic, rhythm, living conditions and warm contacts of Indians.
Having bestridden our legendary motorcycles, with the protection of Ganesh, we dash more before into the discovery of a state which did not stop questioning us by its landscapes, its palaces, its forts, and especially by unexpected and colorful encounters in villages.
With a vehicle of assistance, a mechanic in the small care, a guide of the most smiling and a driver always ready to make us enjoy specialities, we were particularly cherished.
At the end of this journey, we would be back in Europe with our ROYAL ENFIELD, rather than fly.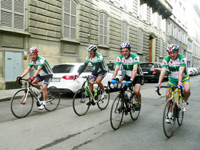 Jean Verri
Trip: Road bike self-guided tour in Tuscany tailor-made
Date: 26 April 2013
Hello,
The stay was wonderful, under mild sky (only one rainy day in Pistoia), the scenery was Breathtaking!
We were very well accommodated: slight drawback in Pisa where the hotel did not give us satisfaction, otherwise everywhere else: comfortable, professional reception.
I send you attached the diploma that we have been issued by Active Europe Corsica, can we have the same for Tuscany to "multiply our deeds"!
We will not fail to use Active Europe for our future trips.
Kind regards,
Jean Verri
---