Motorbike and 125cc rental in Corsica
Wether you are travelling with us or coming to the Isle of Beauty on your own, you can rent a motorbike at our office. We can even pick you up at Bastia airport or at your hotel (Bastia and its surroundings). Direct flights to Bastia Poretta are available from London, Manchester, Bristol between March and October.
Our motorbike rental service is availbale all year long.
Our motorbikes and 125cc
BMW 800GS Adventure
The adventurer: With its powerful engine, comfortable riding position and excellent fuel consumption, you could ride twice around the island without feeling even a little bit tired. The BMW 800GS Adventure is royality in the biking world. Luggage storage: 77 litres in total for the two side cases and 32 litres for the top case.
BMW 800GS (Lowered version)
In the same range as the famous 1200 GS, the GS 800 is a very good touring motorcycle with excellent fuel consumption and easy to drive. Lighter and lower than the 800 GS adventure, this bike will allow you to tackle the Corsican roads with confidence. Luggage storage: 77 litres in total for the two side cases and 32 litres for the top case.
BMW 700GS

This is a multipurpose trail bike par excellence. With a docile engine, easy manoeuvrability and reduced saddle height, the 700GS is attractive to a wide audience in search of adventure. Luggage storage: 77 litres in total for the two side cases and 32 litres for the top box.

Suzuki Vstrom 650 ABS
Your ideal machine for the Corsican roads. The Suzuki V-Strom has been designed with the rider in mind. Lighter, more fun and easier to control than big-bore adventure bikes, the V-Strom is comfortable, reliable and has an average fuel consumption. Luggage storage: 82

litres in total for the two side cases and

37

litres for the top case

.
Honda NC750X
This is the Swiss army knife of the team! This has become one of the most popular bikes in Europe and quite rightly so! Its combination of torque-laden parallel twin cylinder engine, frugal fuel economy and tough adventure-style chassis, comfortable riding position and good looks has made it a winner as a superb stylish "do-it-all" tool. Honda has included convenient details such as the helmet storage space where the fuel tank would normally be. ABS as standard. Luggage storage: 74 litres in total for the two side cases and 42 litres for the top case.

new

Honda CB500X
Honda is presenting its new CB500X made for adventure and offering comfort, versatility and safety in a 2016's lightweight model with only 195kgs and a seat height of 810mm. Equipped with ABS, this bike is supplied with a full GIVI set including top of the range top case and side luggage transforming the adventure bike into the perfect touring adventure bike!
Honda CB500F
This is a nifty little "big" bike which is perfect for both new and experienced riders alike. Its compact dimensions make it easy to ride and manoeuvre. With a lively performance and sharp handling, it is an interesting and fun bike and will be a great choice for those who are looking for a middleweight. ABS as standard. Luggage storage: 44 litres in total for the two side cases and 42 litres for the top case.
Triumph Bonneville

Aaah, the Bonny! Who cannot possibly love the Triumph Bonneville? This is one of our firm favourites. With classic vintage looks, this is a charming bike for gently exploring the island and soaking up the idyllic Corsican countryside. The bike has a low centre of gravity, a comfortable seat that your passenger will be truly thankful for and an engine that will meet your demands in every situation. This is a motorbike that will give as much pleasure to the driver as to the pillion passenger!

Suzuki VanVan 125cc
A cool little bike, ideal for cruising around the coast and going to the beach. Fun and easy to use, the Van Van provides an enjoyable way to get around on your holiday! Luggage storage: Only a top case ! Impossibility to add side cases.
Suzuki Burgman 125cc
Comfortable, stylish, practical, well equipped and with good protection, the Suzuki Burgman 125 is a great way to discover Corsica on 2 wheels.
Our conditions for hire
Drivers must be over the age of 20 and to have held a full motorbike licence for more than 2 years.
Drivers must not have had their licence retracted for a full two years preceding the rental.
A valid driving licence, full motorbike licence, proof of address, and passport are compulsory and must be shown before the rental can take place.
Our rates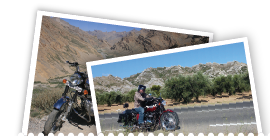 All of the motorbikes that we rent are the most current models available (we keep the motorbikes for no longer than one year)
 
We have a fully comprehensive insurance
 
We can organise for you: a complete touring holiday, accommodation, evening meals, pretty much anything you need to enjoy your holiday on Corsica
Beware
of low-cost rentals
It is possible to find other motorbike rental companies with lower prices. Just make sure that the rental company is fully registered and has all of the necessary licenses and insurance to hire motorbikes. Without these insurances and licences, you will find yourself in real difficulty should you have an accident during your motorbike hire.
Insurance
Europe Active has chosen to use a fully comprehensive insurance.
Europe Active has chosen comprehensive insurance coverage in order to provide you with the best possible customer service. The main difference between a comprehensive insurance and a third-party insurance is explained below.
A third-party insurance does not cover damages to your rented vehicle (theft or accident etc.), which are caused by you and you only. This means that all costs resulting from these kinds of damages will be at your own expense.
A comprehensive insurance, however, offers a broad coverage that protects you against almost all types of damages. There is no need to pay for repair costs etc., and the only expense involved is the cashing of your deposit.