Tailor-made holidays
Private groups, companies, clubs and individuals can all be catered for. Modify one of our existing trips or ask us to build a holiday that meets your requirements.
Modify an existing trip
You found a very exciting trip among these pages. But it's not perfect yet. You'd like one more night, or an upper-class accommodation? Maybe a wine tasting or a diving experience? We will do the impossible to help you create these special holidays.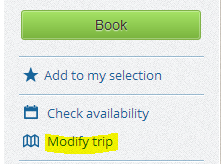 How to start?
On the page of the trip you have selected, please click on "modify trip" and fill the form. We will reply in a timely manner.
Build a full tailor-made trip
If you have a clear idea of your next holidays, be sure we can assist you with a perfect program. Our field knowledge and logistics expertise will be of great help. To discuss your project, please contact us.