Our offices
Europe Active operates from its headquarters in Corsica, near Bastia. We also rely on an agency in Bucharest, Romania.
Europe Active was set up in Corsica in 2005. What a better place to run a business dedicated to outdoor travel?
Our office is not open to the public for travel reservation. We are an online travel agency, and we welcome you by phone or email from Monday to Saturday, from 9am to 12pm and from 2pm to 6pm.
If you want to rent a bike or a motorbike, please call us first. Then here is some information to find our office in Borgo.
GPS coordinates : 42°33'18.4"N 9°26'28.9"E
From Bastia : Drive on the N193 / T11 (Avenue de Valrose) until the exit direction Borgo. Go straight on at the next 4 roundabouts on Avenue de Borgo. After the fourth roundabout, continue for 400 m, and our offices are on your right.
From Bastia Poretta airport : follow the direction of Bastia, then take the direction "Autres directions, Lucciana, Crucetta" and pass over the highway. Continue straight on at the roundabout and enter Lucciana. At the large roundabout near the Vito petrol station, take the first exit on your right and enter Borgo. Continue to the next roundabout and turn around to get back on the road. Then continue for 400m, our offices are on your right.
By train: from Bastia, Calvi, Corte, Ajaccio, the train stops near our office at the Borgo station. Please check the trains timetables in Corsica.
Our office in Romania
Europe Active proposes active holidays in Eastern Europe. We can rely on Raluca and her team in Bucharest to build exclusive and high quality trips in Romania, Hungary and other countries of the area.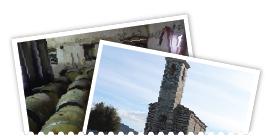 All our contacts
Borgo, Corsica, France:
Europe Active
673 avenue de Borgo
20290 Borgo
Tél. : +33 495 444 967
Fax : +33 495 333 159
Bucharest, Romania:
Romania Active
Strada Icoanei nr. 97, sect. 2,
020455 Bucuresti
Tél. : +40 729 474 666
Fax : +40 314 253 095