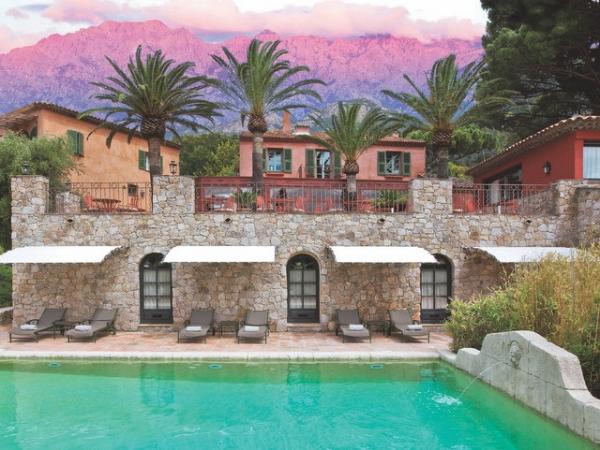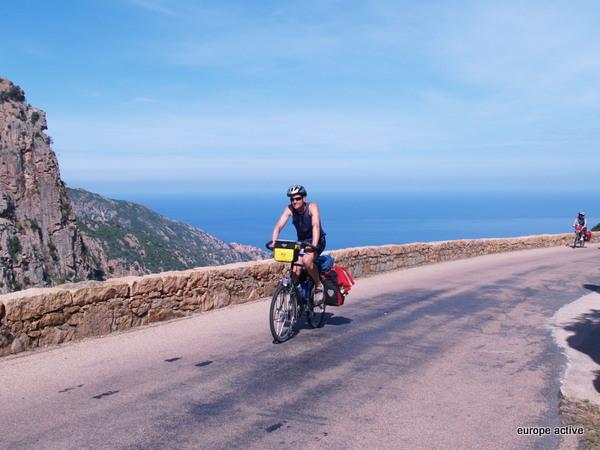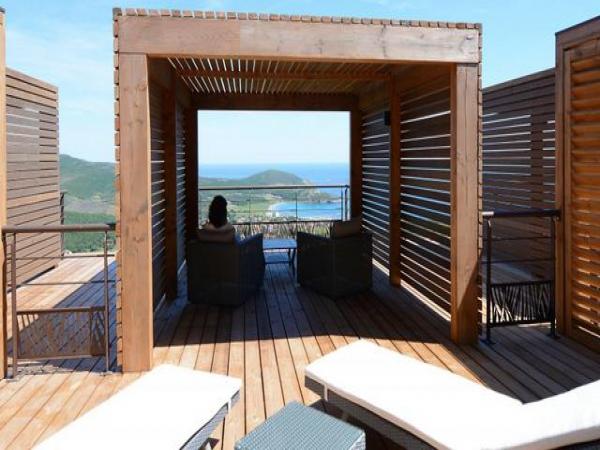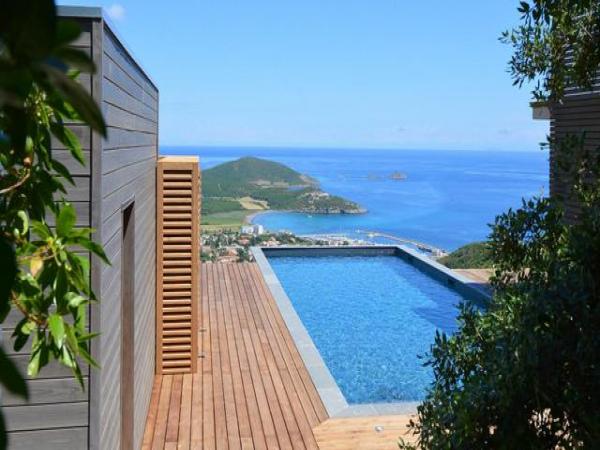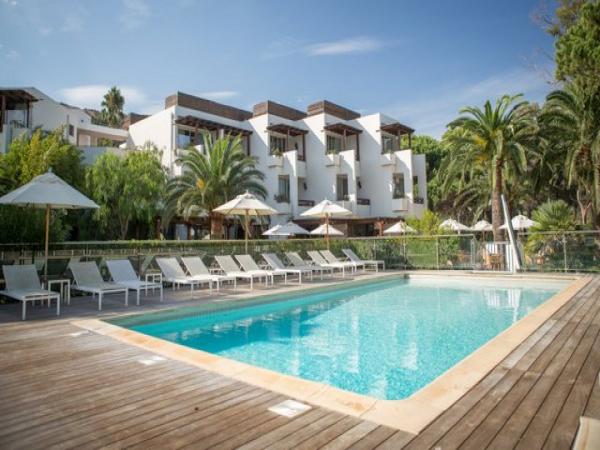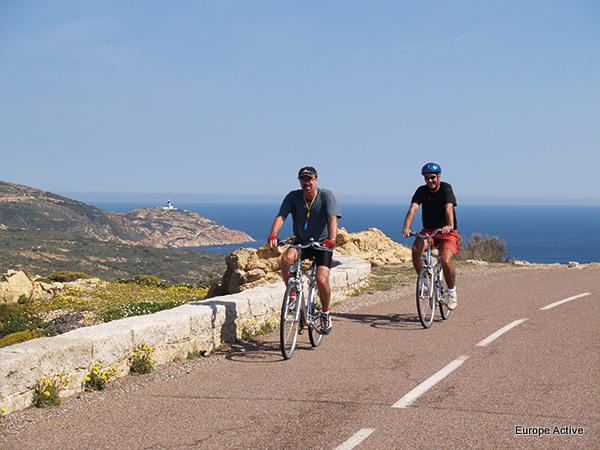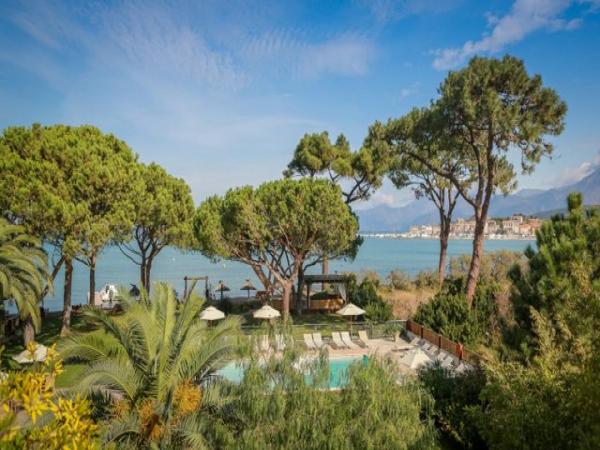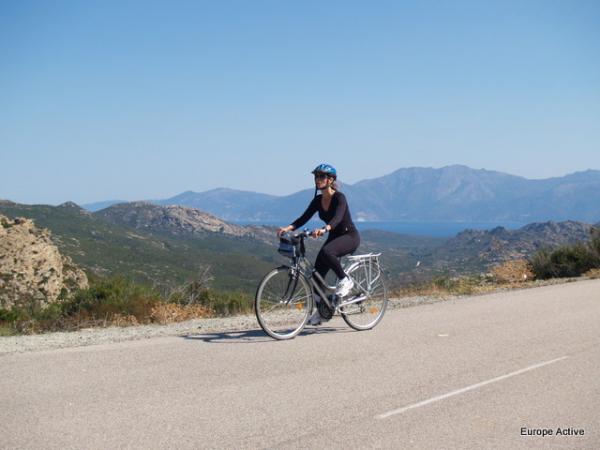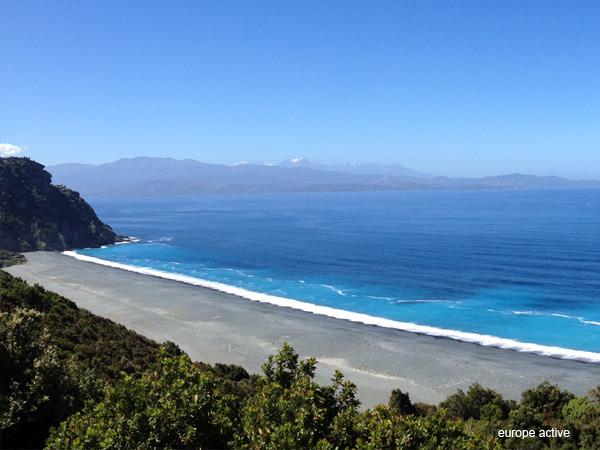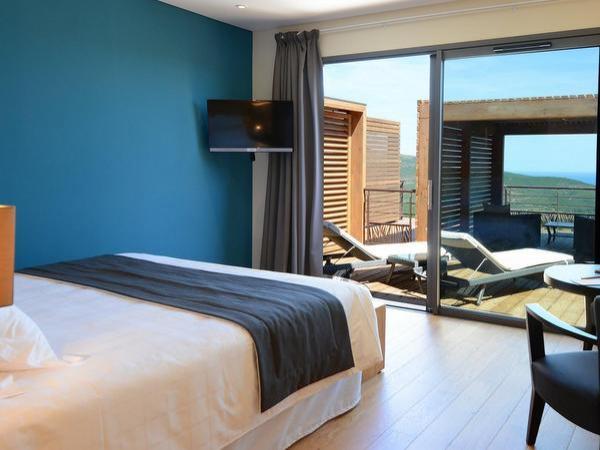 The best roads and best hotels in Corsica
7 days / 6 nights
Corsica - Leisure cycling - Self-guided road cycling - E-bike tours - Self-guided - E-bike - Self-guided
Without guide - Comfort - Luggage transfer

Last updated: 06/12/2023
price from
2760 €
per pers.
Hotels have been carefully chosen and you will get a warm welcome from local people very proud of Corsica. Fantastic hotels, the best bikes available on the island and also gastronomy and renowned wines will make you share the inhabitants' enthousiasm for Corsica!

Your day by day program
Arrival in Cape Corsica
We welcome you at the airport in Bastia and transport you directly to Cape Corsica, avoiding the busy roads. You will then have time to test your new bike, if you rented one through us, or to discover your hotel and its area located in a beautiful village close to Macinaggio. We advise you the restaurant and its fantastic view overlooking the sea.
Night in a 4* hotel.
Extreme North of Corsica
This morning, you will cross the tip of the island. A nice climb will await for you to reach the Mattei windmill before enjoying a beautiful descent to Centuri. An optional ride will take you to the tip of the island, Barcaggio. Centuri is renowned for being the first lobsters' fishing port in France. A great occasion to taste it in one of the many little restaurant in the marina.

Night in a hotel right in the marina from where you will have a fantastic sunset.

Distances :
About 47km (D+: 559m ; D-: 565m ; Min.: 0m ; Max.: 362m)
or 61km (D+: 856m ; D-: 860m ; Min.: 1m ; Max.: 361m)
After the Corsican lobster, the Corsican wine!
You leave Centuri and follow the road overlooking the sea. Views are amazing on this dramatic coast offering hidden and sheltered creeks ideal for swimming in clear turquoise waters. You will carry on towards Nonza where its Paoline tower and its black pebbles beach is worth a stop. Later, you will cross Patrimonio, known as the birth place to the best wine in Corsica. Its vineyards, its beautiful church will ensure you a good time in the village. Wine tasting is offered in many of the ceilars. Then you will arrive in Saint Florent, your stop for 2 nights.

About 58 km (D+: 823m ; D-: 771m ; Min.: 5m ; Max.: 202m)
Night in Saint-Florent in a 4* hotel (or a 3* hotel with Michelin star restaurant)
Saint-Florent
Enjoy your time in Saint-Florent, its little harbour and its white sand beach. Saint-Florent is a small local sea resort from where you can also board a shuttle to one of the most beautiful beach of the island, Saleccia.
We also suggest a 50km loop around the Nebbiu's villages.
Night in Saint-Florent in a 4* hotel (or a 3* hotel with Michelin star restaurant)

Distance : 50km (D+: 816m ; D-: 813m ; Min.: 0m ; Max.: 467m)
Crossing of the Désert des Agriates
An amazing ride accross a protected route with stunning landscapes. Following the sea shore in a distance and amid the Corsican scrub, the road ondulates in a luxurious granitic and green environment, surprising knowing that you are supposed to be in a desert! Once at the Vezzu pass, you will get beautiful views on the mountains.
A great descent will follow toward the Balagne area where different roads' options are proposed to you. Arriving in Ile Rousse, you will hopefully be able to enjoy a dring looking at the sunset over the rocky island of Ile Rousse explaining the name of the little town.

Night in a 4* hotel in the centre of Ile Rousse.
About 48 km (D+: 612m ; D-: 611m ; Min.: 0m ; Max.: 365m)
69 km (D+: 1066m ; D-: 1068m ; Min.: 0m ; Max.: 466m)
or 80 km (D+: 1279m ; D-: 1281m ; Min.: 0m ; Max.: 683m) depending on the chosen option.

La Balagne, villages, beaches and great food!
You will leave Ile Rousse and the major road to get inland and reach some of the most beautiful villages in Corsica: Pigna, Sant Antonino... Great opportunities are given to you to taste some fantastic local food in amazing places and restaurants (listed in your Europe Active road-book). You can also taste the local lime juice in Sant Antonino to kick you up the next hill! The artisans' road will then welcome you before the descent to Calvi, a little Saint Tropez in Corsica.

Night in 5* hotel in Calvi.
About 22 km (D+: 364m ; D-: 335m ; Min.: 2m ; Max.: 198m)
30 km (D+: 487m ; D-: 457m ; Min.: 2m ; Max.: 362m)
or 35 km (D+: 647m ; D-: 618m ; Min.: 2m ; Max.: 531m) depending on the chosen option.
End of your holiday
End of your holiday after breakfast. Contact us if you want us to organize a transfer to Calvi or Bastia airport.
Departure board
Every day from the begining of April to the end of October. Please note that July and August can be really hot. You'll have to leave early!

Technical information
Starting point
At the Bastia airport on arrival.
End
At your hotel in Calvi, day 7 after breakfast. Ask us if you need to have a transfer organized to Calvi or Bastia airport.
Accommodation
Nights in the best hotels available on the itinerary up to 5*. In rooms of two persons. Single rooms depends on availabilities and is subject to a supplement.
Level of difficulty
This trip has 2 or 3 options everyday to let you choose your daily route. An average of about 50 kms.
Carrying
Luggage transfers are organized in private vehicles. Therefore, you only need to carry your equipment for the day.
Options
Single room supplement : 1260€
Supplement for high season departure (from the 15th of June to the 15th of September) per person : 310€
Single room supplement during the high season (from the 15th of June to the 15th of September) : 1945€
Hybrid bike rental : 320€
Electric bike rental : 460€
Aluminium road bike rental : 510€
Carbon road Bike rental : 560€
Included
- Airport transfer on day 1
- 6 nights in 3, 4 and 5-star hotels
- 6 breakfasts per person
- Luggage transfers every day
- Routes notes, maps and GPS tracks on our app (a smartphone is required)
- Local hotline every day from 08.00am until 08.00pm
Not included
- Transportation from the ending point
- Transfers not included in the program
- Bike rental
- Everything not mentionned on the "included" part
Map