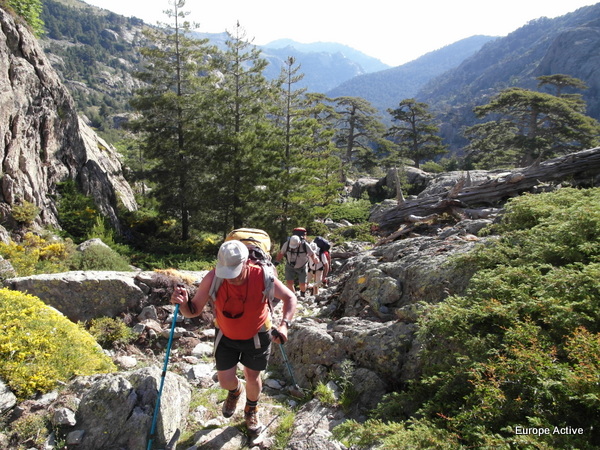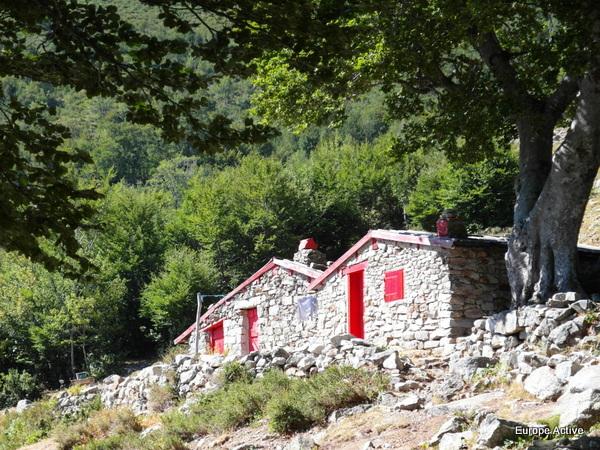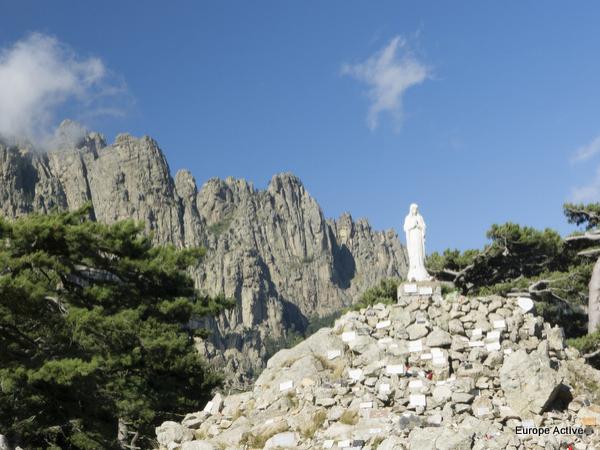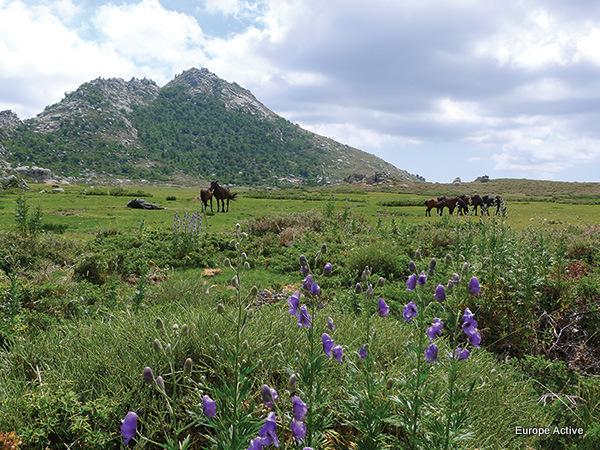 On the trail of the GR20 South
8 days / 7 nights
Corsica - GR20 - GR20 South - Independent walking
Without guide - Luggage transfer

Last updated: 08/11/2021
price from
870 €
per pers.
The mighty GR20: a fantastic itinerary from the North-West to the South-East of the island! From the Renoso Mountain to the Needles of Bavella, you'll follow red and white markings and take some alternative routes to complete this southern part of the "Grande Randonnée" (GR).

To Vizzavona:
To get to Vizzavona, you can either book a taxi transfer with us or you can take the local bus or train. For train fares and timetables, please visit www.corsicabus.org.

From Conca:
To get to your destination point from Conca, you can either book a taxi transfer or you can take the local bus or train. For train fares and timetables, please visit www.corsicabus.org

Your day by day program
Vizzavona
Arrival in Vizzavona. Night in a gîte or refuge depending on availability at the moment of booking.
Dinner and night in Vizzavona.
From Vizzavona to Capanelle
Today's walk begins in a beech grove in the Vizzavona forest. The pass of Palmente offers a stunning viewpoint over the lakes of Diana and Urbino. The next trail segment takes you to the eastern slope and the shepherd's hut of Alzeta. You then walk along an ancient mule-track to reach the gîte of Capanelle.
Dinner and night at the gîte.

Walk: about 5h00.
Altitude gain & loss: +1155m, -715m.


From Capanelle to Bocca di Verde
From Capanelle, you make your way to the picturesque sheepfolds of Traghjete before trekking on towards the Plateau of Ghialgone. You then cross the footbridge of I Spiazzi and the forest of Marmano, before reaching the Col de Verde.
Dinner and night at the gîte.

Walk: 5h00.
Altitude gain & loss: +600m, -900m.

From Bocca di Verde to Cozzano
You climb up to the Bocca del Orro and walk through the plateau of Prato and its alpine fields. As you follow the crest line, the valley provides spectacular views of the Taravo and the Tyrrhenian Sea on the eastern slope. You then walk through the forest of St Antoine to reach the village of Cozzano.
Dinner and night at the gîte.

Walk: about 8h00.
Altitude gain & loss: +750m, -1300m.

From Cozzano to Basseta
Early morning departure. You climb the Bocca di l'Usciolu and walk along the mountain ridge with its dreamlike rocky landscape, sculpted by the wind. The path descends through an alder-tree forest, aged over a hundred years. The lush vegetation becomes more dense and exposed, and you soon reach the plateau of the Cuscione and the shepherd's hut of Basseta.
Dinner and night at the gîte.

Walk: about 6h30.
Altitude gain & loss: +910m, -505m.
From Basseta to Bavella
The plateau of the Cuscione offers a gentler terrain with its green grazing lands and pozzines (a type of peat bogs). You then climb Mount Incudine (2000m high) and, from the Asinao Valley, the path descends to the spectacular granite peaks that are the famous Needles of Bavella.

Walk: about 9h00.
Altitude gain & loss: +982m, -1100m.
From Bavella to Conca: the last stage!
The start of the day is outlined by an easy path in the forest in the southern massif of Bavella to the refuge of Paliri. You will then attack the descent, accompanied by the scented essences of the maquis. The end of this great adventure is approaching ... On your arrival in Conca, you will be able to pose proudly next to the sign marking the end of the GR20!

Food: B,L,D
Accommodation: Gîte (double room available).
Possible access to your main luggage.
Distance: km
Walking: about 7 hours.
Height gain: + 450m, –1400m
End of the great adventure
End of services after breakfast. From Conca, you can easily take a shuttle to Porto Vecchio, then a bus to Bastia or Ajaccio.
Contact us if you need a transfer.
Departure board
Every day from the beginning of June to mid-September.
Technical information
Accommodation
Gîtes d'étape (dormitories for 5-6 people with shared bathrooms).
Please be aware that facilities will be basic and normally on a shared basis (except in hotels). Hot showers should be available at each accommodation, but water may be limited due to high demand.

Double bedroom accommodation:
Nights in rooms of two are available on this particular trip, depending on availability.

Single accommodation:
Nights in single bedrooms are not available on this particular trip.

Extra accommodation:
If you require additional nights before the start of your trip or after the end of your trip, then our team can book this for you (subject to availability). Please notify us (on your booking form or by email) at the time of your booking. Payment for extra accommodation should be made to us one month before the start of your trip.
Level of difficulty
Terrain: well-marked paths but very technical terrain (rocky and uneven). You need to be sure-footed and have plenty of relevant mountain experience. You also need to be able to read and follow map instructions. Walking: from 4h30 to 9 hours.
Carrying
Luggage transfers on each stage.
Options
2 nights in double room : 60€
Set of IGN Maps : 40€
Included
Accommodation, 7 nights on gîtes (dormitories)
7 dinners
7 breakfasts
6 picnic lunches
Luggage transfers
Route notes and maps on our app (a smartphone and extra battery are necessary)
Local assistance.
Not included
Transfers to Vizzavona.
Transfers from Conca.
Transfers not included in this itinerary(for example, due to bad weather or physical ailments).
Optional activities.
Beverages.
Holiday insurance.
Similar holidays