Our specialists' blog

Written on the 6th of Novembre 2013 by Alexandra, trekking specialist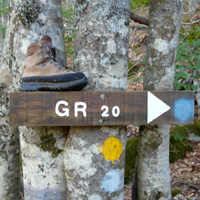 How to choose your hiking boots? 1/2
One shoe cannot fit all, everyone knows this. So how do you go about looking for that magical pair of shoes you've always wanted for your walking adventures?
Boots are the most important item you'll need for your trek or hike. Sure, it's hard to make your mind up when going in shops overflowing with tons and tons of Meindl, North Face, Mc Kinley, Salomon, Timberland, Lowa, Salewa shoes etc. There's so much choice that you often feel like a lost soul in a "shoe-hell".
But don't fear! Our walking specialists at Europe Active are here to help you out. Below are 8 tips on what you should look for when buying shiny new boots for your ten toes.
1.

Boots. Yes, but what for?
Sure, everyone loves walking. But what kind of walking do you want to do? That's the first thing you'll need to work out. You'll need to make sure your shoes are suitable for what you want to do. If you're planning a day's hike, then you probably won't need chunky hiking boots.
It's not always easy to compare different kinds of boots when trying them on in shops. But remember: comfort is one of the most important aspects when choosing a pair. You should always look for that extra bit of comfort. When out there in the wild, it can really make all the difference.
So here's what to do:
Choose a boot with the right length for your feet. Your toes should wiggle easily inside the shoe. Your feet shouldn't slide around inside and they shouldn't feel compressed either. The volume of your boot should also match your foot. This is crucial if you want to avoid slip and toe bang on downhill trails. These can cause blisters and black toenails.
Also check the shoe doesn't rub against the skin on the back of your heel with too much pressure. If so, then ditch that shoe and try another one on!
When a boot fits properly, it usually feels as if a big hand is holding your foot over the instep (where the laces are).
Always make sure you have enough so you don't twist that ankle of yours on tricky terrain. Choose the best boot cut for you. You might want a low-cut shoe for lightweight travel on easy trails. But be careful, low-cut shoes have less roll-resistance for ankles and they can get your feet wet or dirty with mud, sand, scree or grit.
If you don't want low-cut boots, then why not try mid-cut ones? These wrap around your ankles and make them all cozy. They also offer buffer from debris. They're a smart pick for short trips with moderate loads.
Otherwise, high-cut boots might be the best choice for you. They give you more balance and have good ankle support on rough terrain. If you carry heavy loads (>18kg / 40pounds) or hike off-trail, then these are perfect for you. Just one last thing: break them in well especially before a long-distance trip.
4.

The sole of your soul:
Make sure the outsole of your shoe has good rubber. Vibram is probably one of the best-known brand names when it comes to rubber.
Some boots might also have additivies like carbon to boost hardness. Hard outsoles make your shoe last longer but they can feel slick if you go off-trail.
Also check the lug pattern out! These are traction-giving bumps on the outsole. When they're deep and thick, they improve grip. When they're widely spaced, they offer good traction and they avoid making your feet getting all muddy.
Keep your toes (and malleolus or bony bits on each side of your ankle) nicely protected on the front and sides of the boot, so that if you bump into something, then your super shoes can cushion the impact.
Wet shoes get smelly and wet feet get blistered easily. They can also make you feel cold. Not a good idea when it's pouring with rain and you've only started your trip. Soaking wet shoes can also be hard to dry off and can become a real pain. Note though that waterproof boots are not as breathable as non-laminated ones. They can sometimes make your feet hot and sweaty. Our tip: choose waterproof boots for winter or early spring and wear more breathable boots during summer.
7.

Breathable or not breathable?
In short, yes. They should be, especially if you feet tend to sweat a lot.
Heavy shoes drag your pace down. So, try to choose a light pair of hiking boots when possible.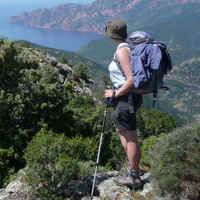 How to choose your hiking boots? 2/2
Trying your pair of boots on:
Keep in mind that one shoe cannot fit all! Footwear sizes and shapes vary from brand to brand.
Don't choose a pair just because it looks good on you or because it says Meindl, Salomon or North Face on the label. Sure, ugly pairs aren't great but good looks aren't everything either.
Make sure you know what you need and explain what you need to a sales' assistant.
Trust what we say: when we say comfort, ankle support, grip, cushioning, protection, waterproofing are important, we mean it!
Pick a bigger size than usual and try your two boots on with a pair of walking socks.
Tie your shoelaces nice and tight.
Wear the boots on for about 10-15 minutes. Climb a few steps to see how it feels going up and down.
Breaking in those new boots
It's always a good idea to get familiar with your shiny new boots before going out walking. Just one thing: forget old-school methods like soaking boots in water. They won't help much or worse: they might even damage your boots!
Try them on in your house for a little while to make sure you won't get any sore spots when out there on the trail. For hiking or trekking boots, walk around the house a little with a weighted bag on your shoulders.
Keeping your toes nice and cozy during your walk
Weirdly enough, the first thing people forget to do before their walk is to clip their toenails. But believe it or not, it can make all the difference. Try clipping them quite short to avoid getting bruised or black toenails when banging your feet against the end of the boot.
A blister-free walk is one less thing to worry about. Don't wear sock that rub and make sure to wear boots that fit. Rubbing some petroleum jelly between your toes can also help. Make sure you also carry Compeed plasters in your first-aid kit, just in case you do get blisters.
Buy some good hiking/trekking socks (synthetic or Merino wool are good fabrics). Always avoid cotton socks. They keep your feet moist and can cause blisters.
« These boots are made for walking and that's what they'll do ». Boots obviously inspired Nancy a lot. But what boots and what walks was she talking about? We've listed a few here to inspire you just as much!
Easy walks on easy trails: Choose the most comfortable boots you can find and make sure they are as light and as breathable as possible. They should also have good rubber soles.
Healthy hiking: on rough terrain, we recommend you use high- or mid-cut boots for good ankle support. Go for that Vibram or Contagrip rubber sole (or a good alternative), and you definitely want those comfy boots with good toe protection. They'll keep your feet all snug and cozy.
Technical trekking: for long-distance walks on rough and uneven terrain (rocks, névés or patches of snow and river-crossings), we recommend high-cut boots. That's when those beefy trekking boots come in! Choose sturdy boots with frontal and side protection to avoid blisters and bruising. The sole shouldn't be too soft or too hard. You've got to find the right balance to get enough comfort and enough grip. Our tip: take boots with semi-rigid soles: always a nice comprise.
Deep desert: go for those comfy and breathable boots with good grip on the outsole. Low- or mid-cut boots are good enough for that kind of walking. In deserts like the Sahara, you may even want some walking sandals instead.
Mighty mountains (high mountains): High-cut studded boots are a must buy! For glacier walks, semi-rigid soles are brilliant. They'll give you that extra bit of comfort. For technical walks and glacial waterfalls, don't even think of getting soft soles. Rigid boots will be your best friends on that one.
Rapid raids: low-cut boots or maybe trail-running shoes are probably the best choice for raids. You should definitely look for comfortable and lightweight shoes/boots with good grip, cushioning, ankle support and waterproofing. These shoes are perfect if you really hate that heavy pair of boots.