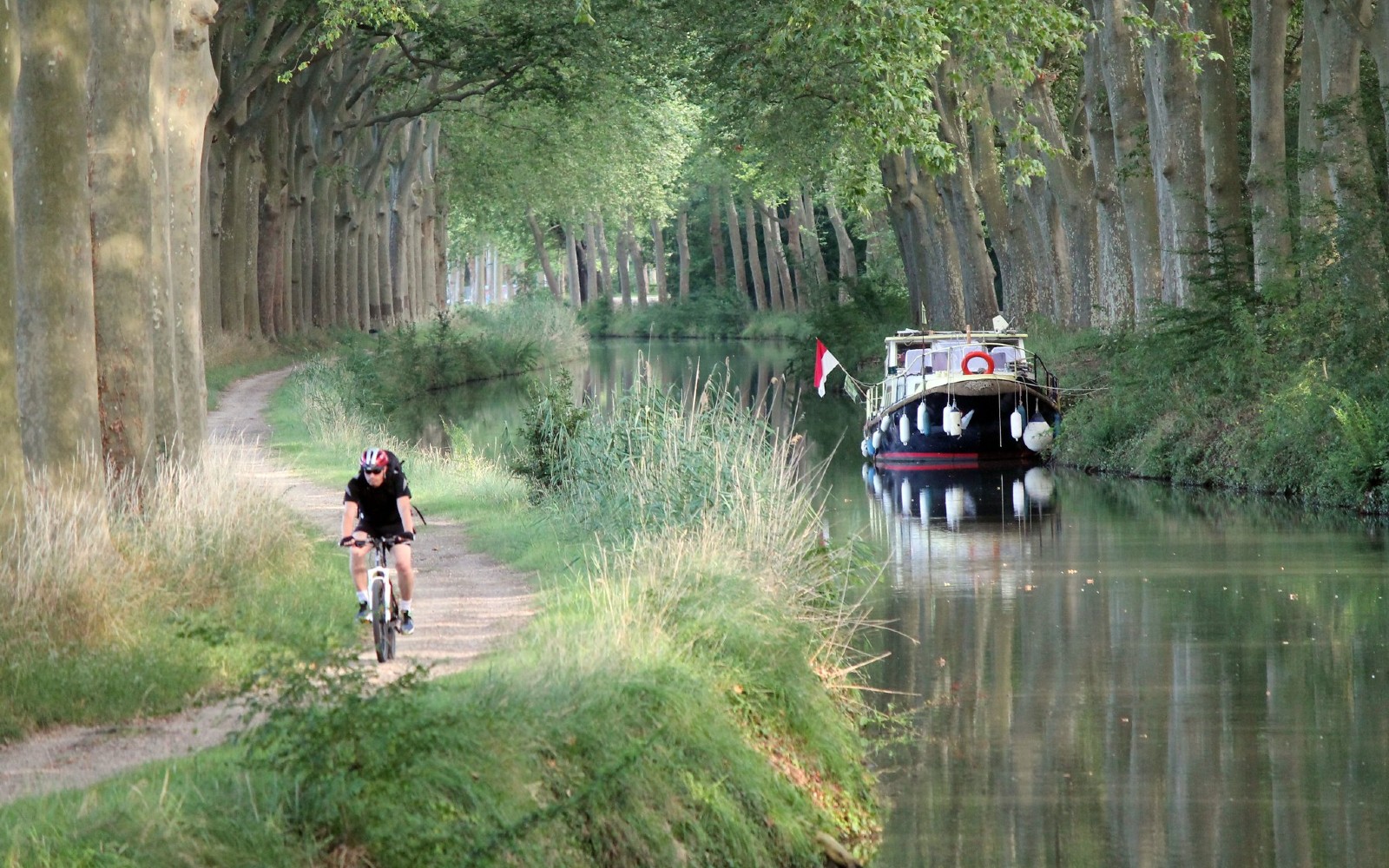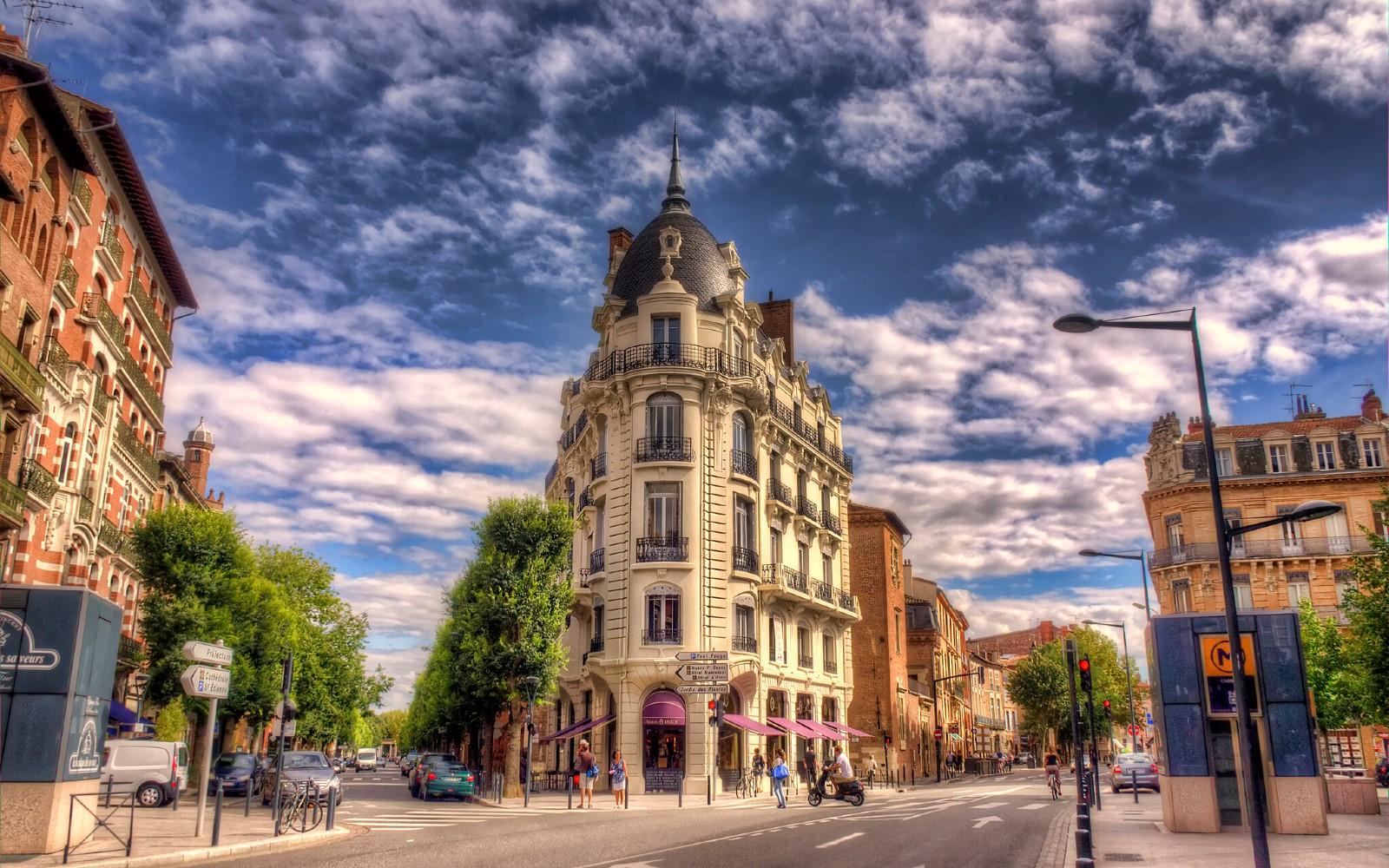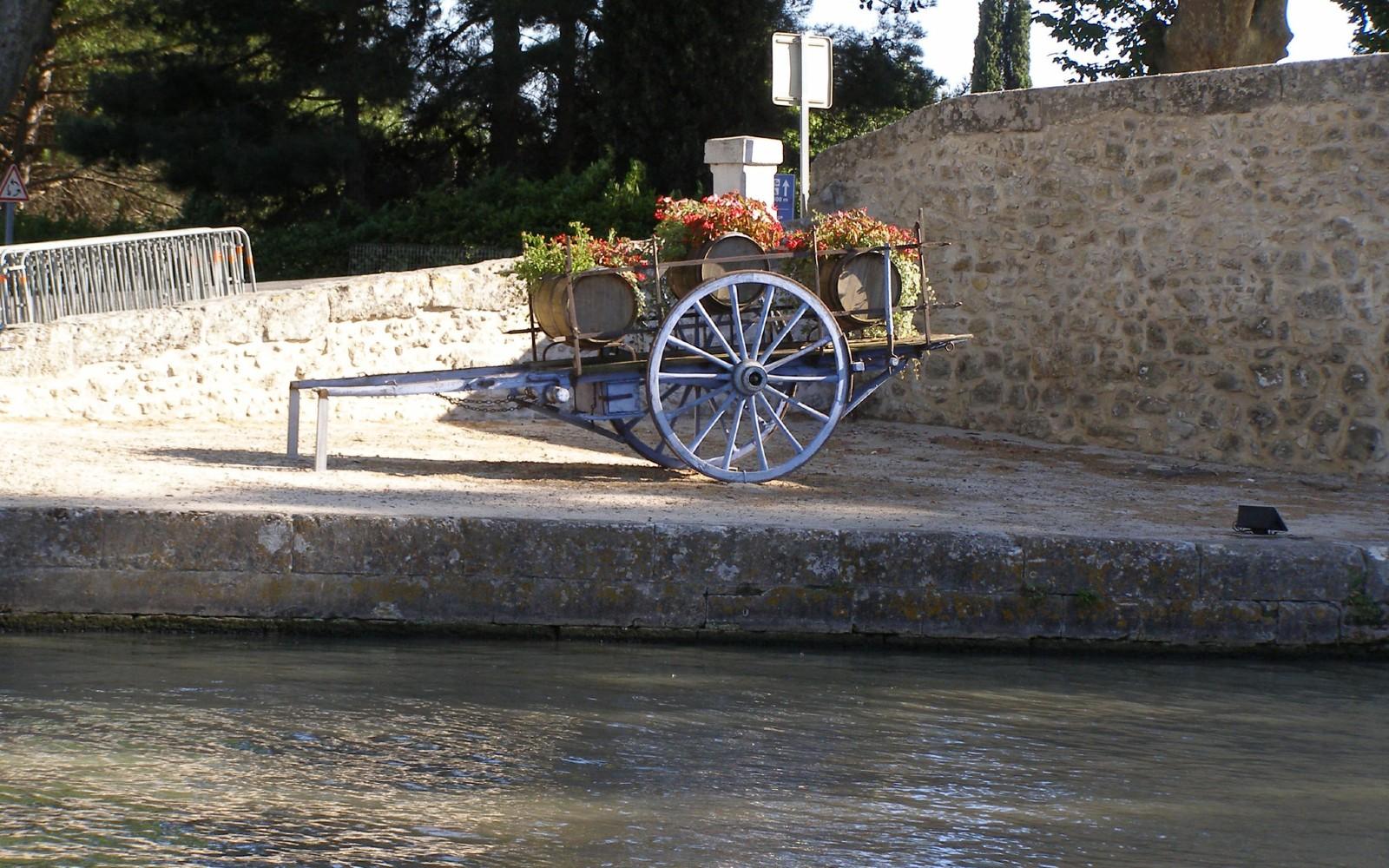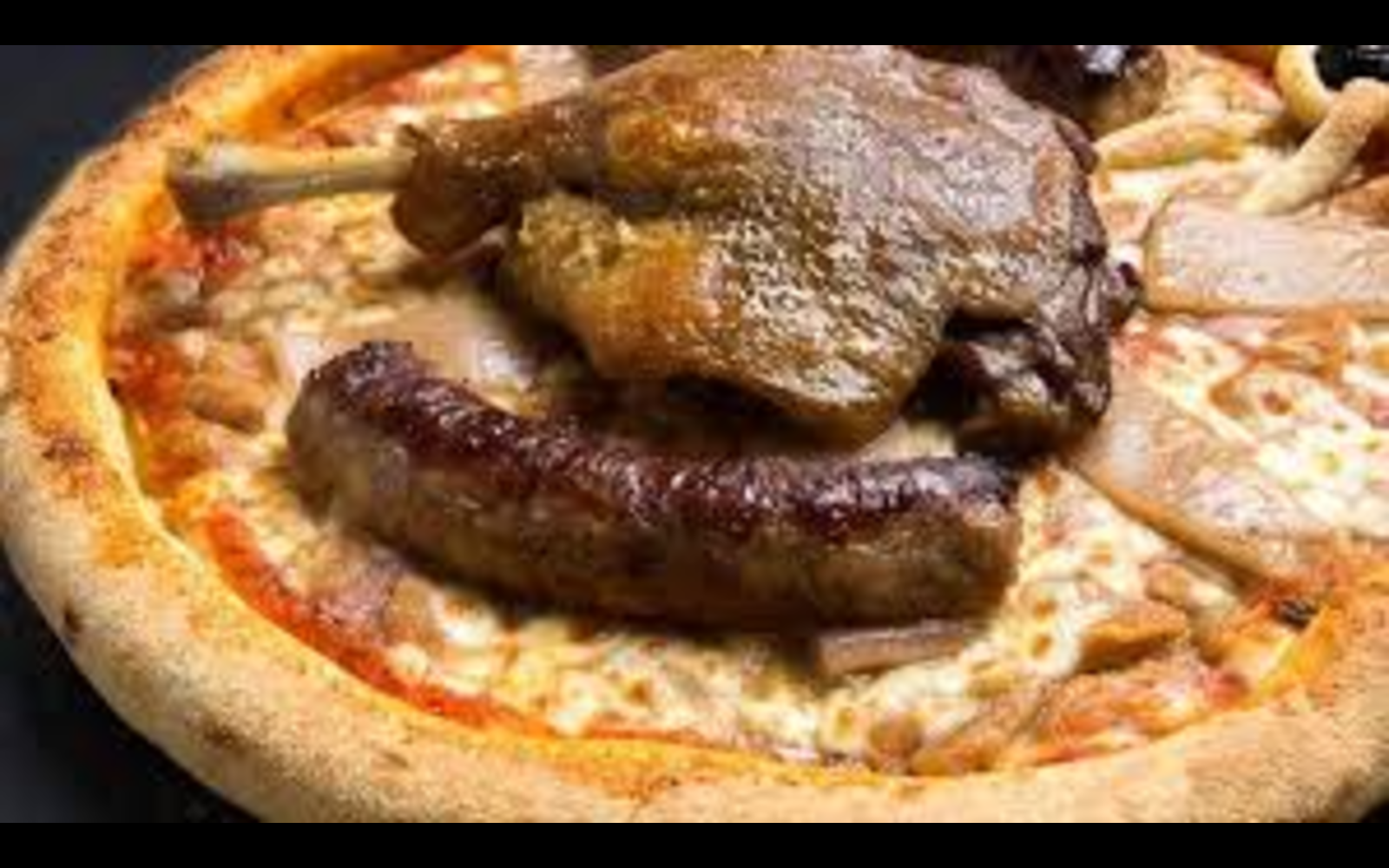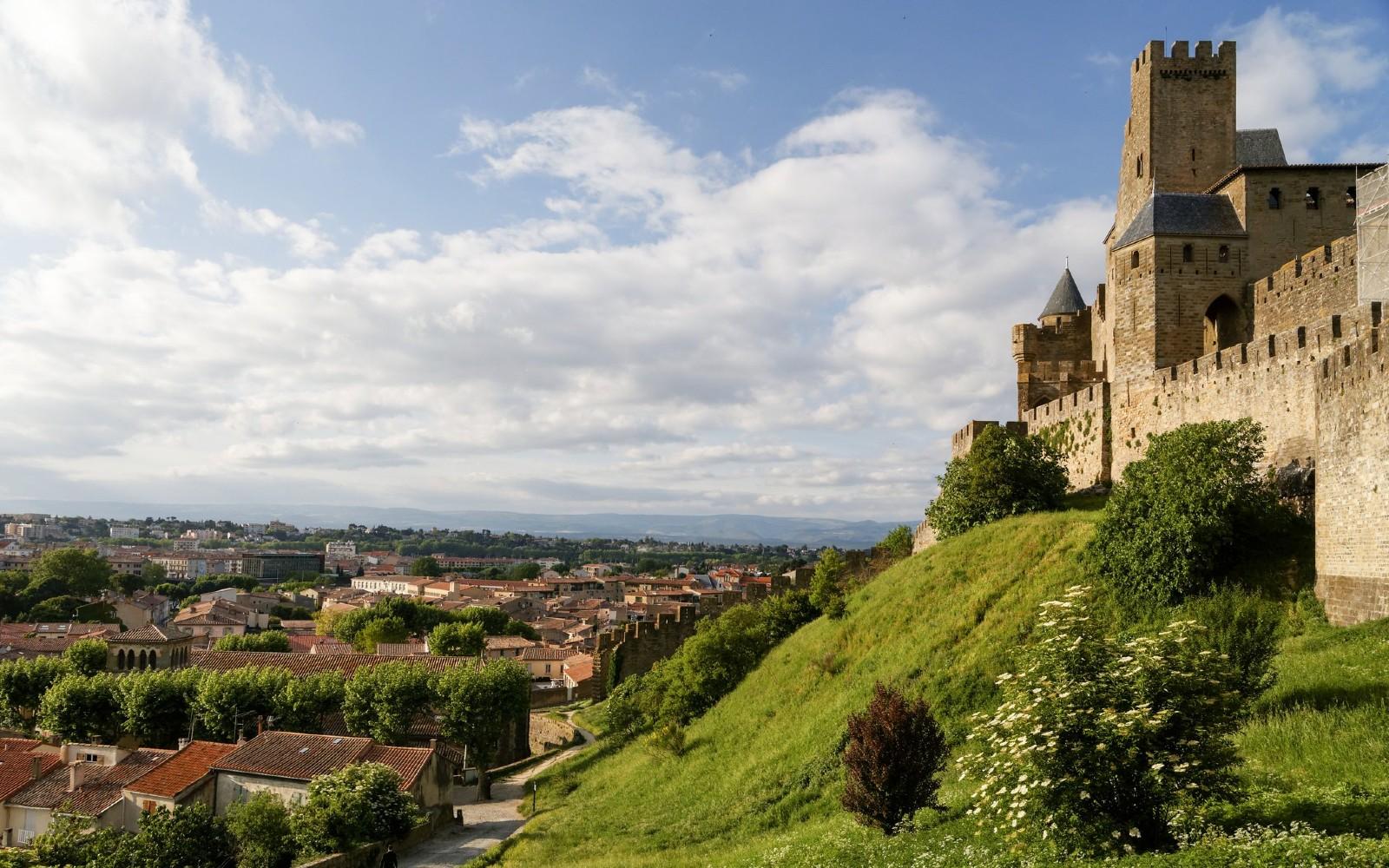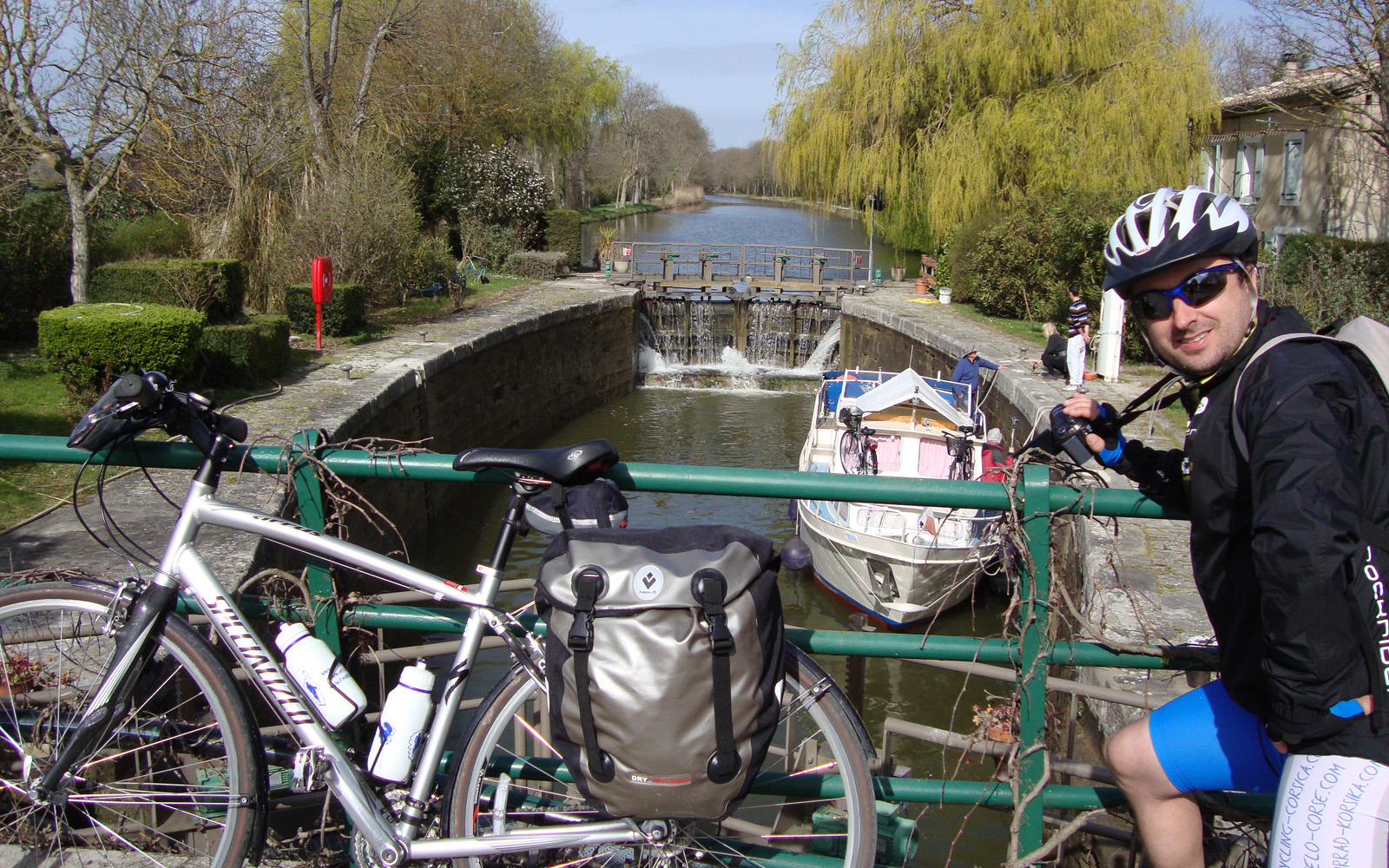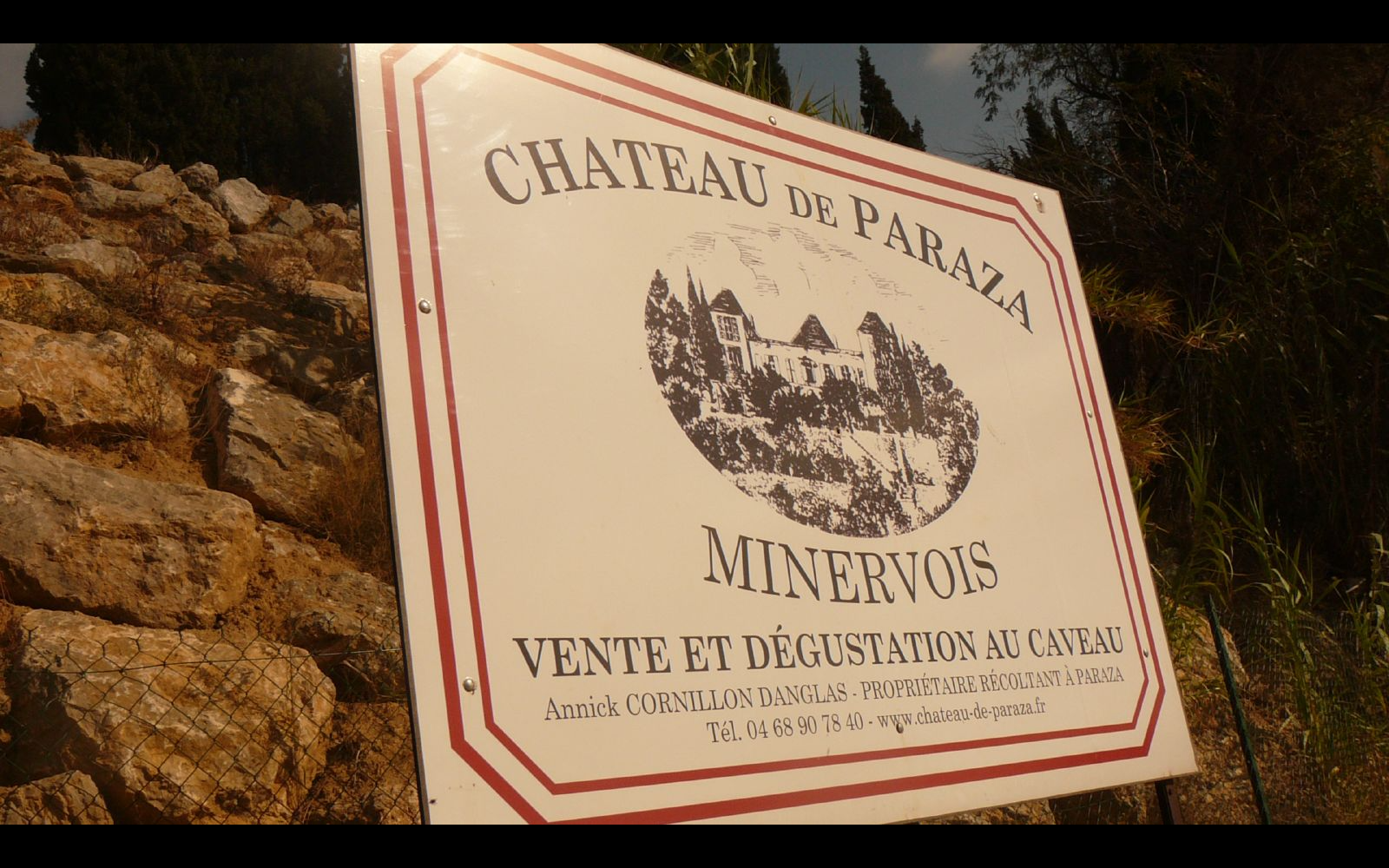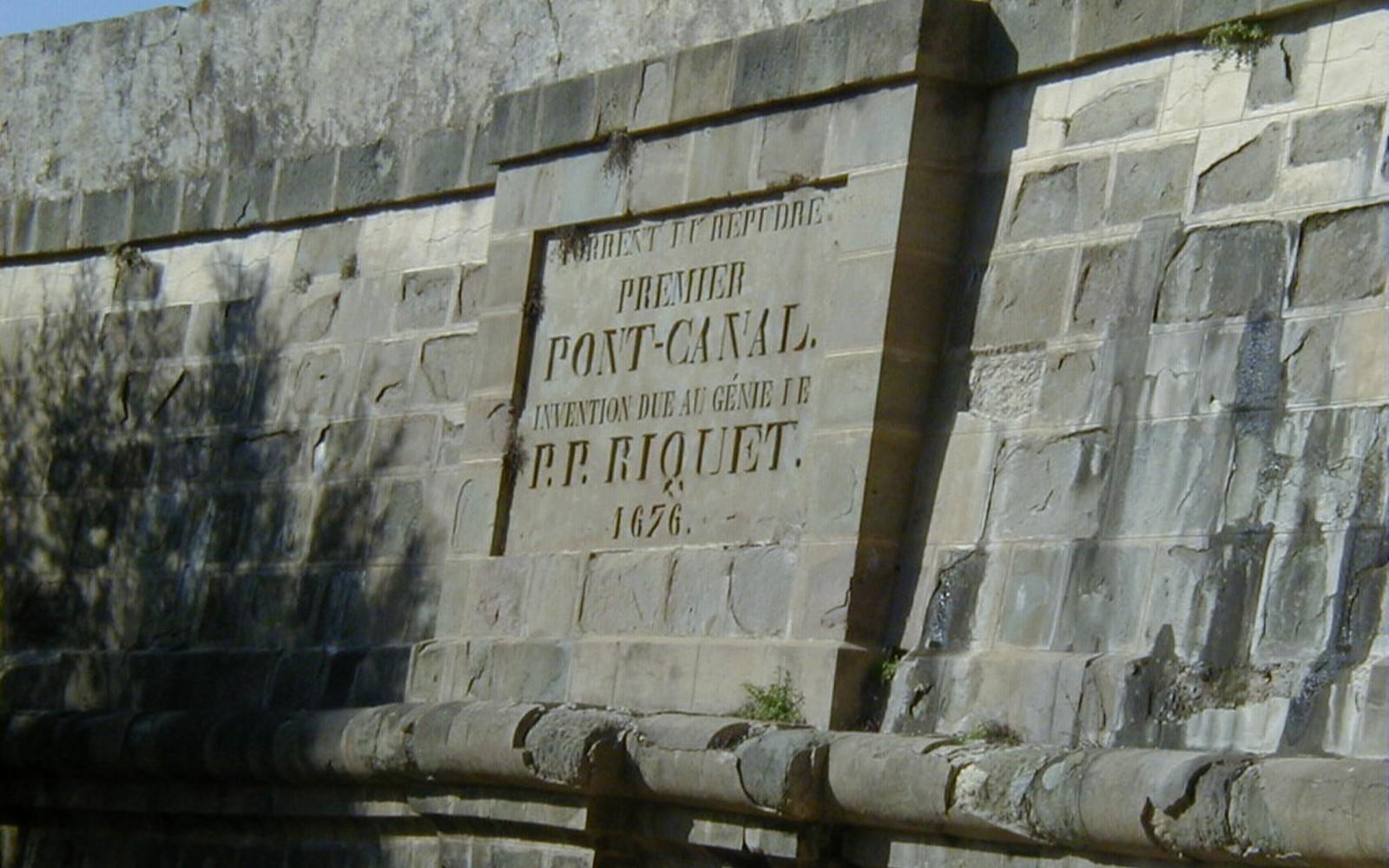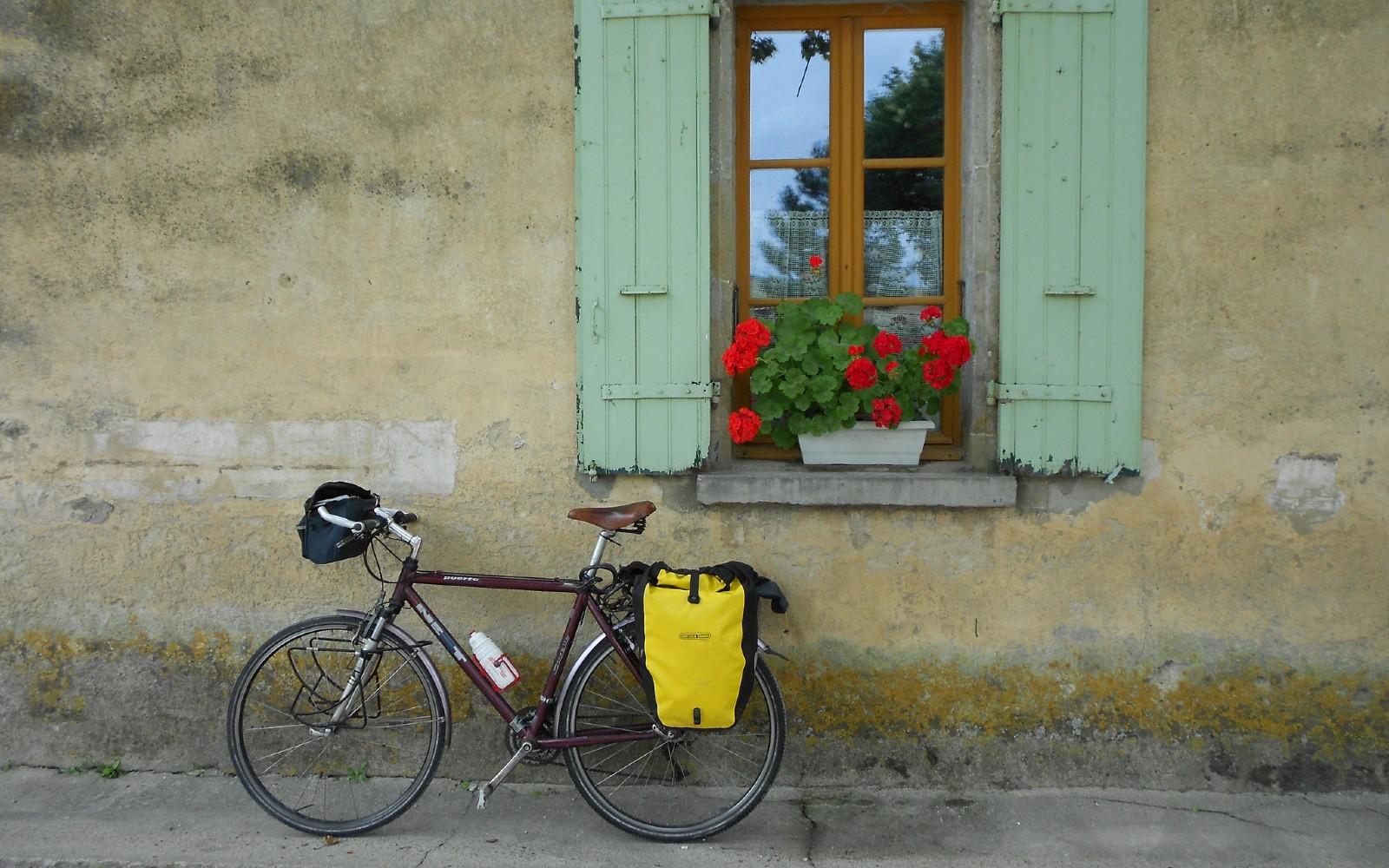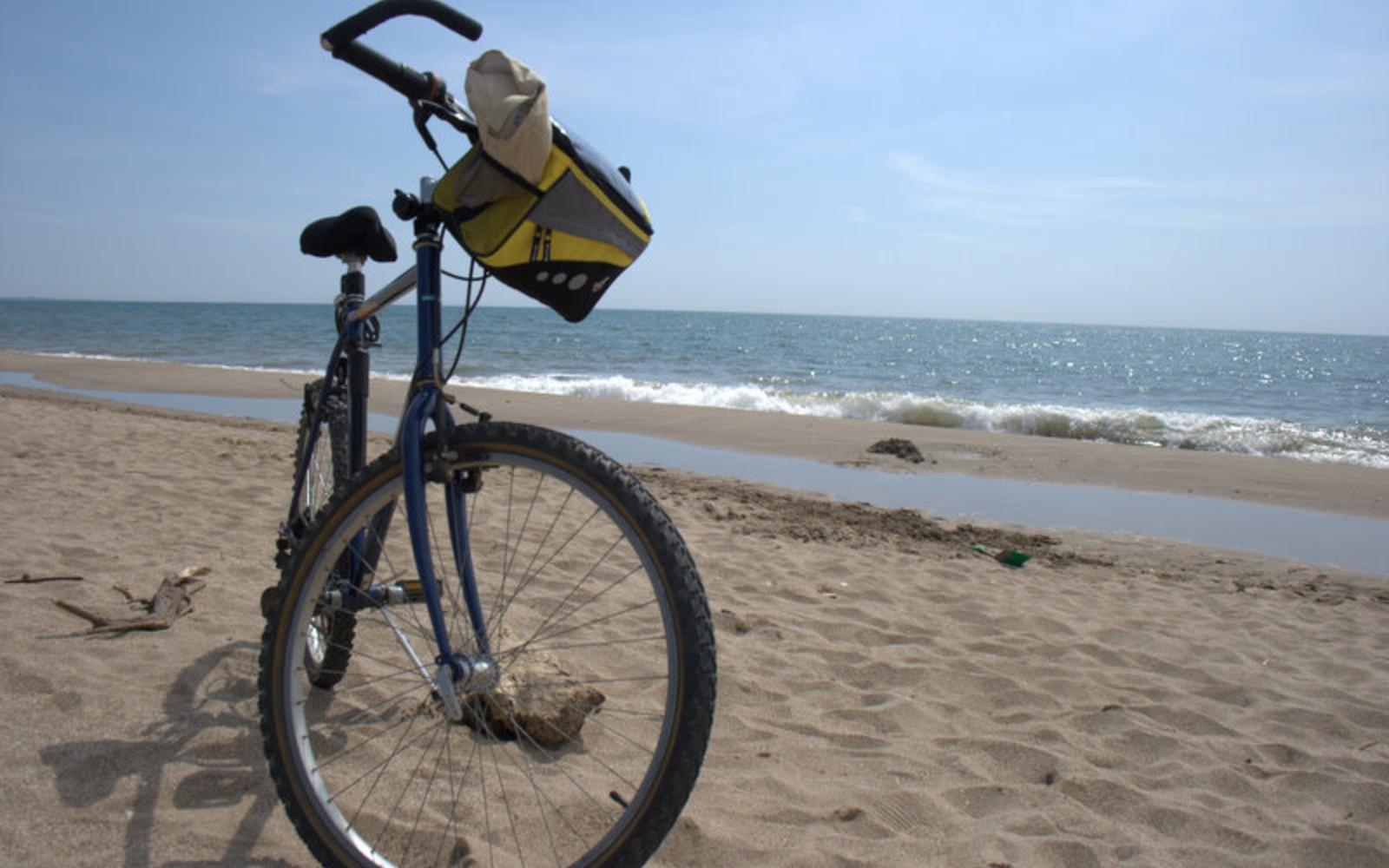 A unique Canal du Midi experience
6 days / 5 nights
Canal du Midi - Cathar country - Leisure cycling - E-bike tours - Self-guided - E-bike
Comfort - Luggage transfer - New for 2021
price from
595 €
per pers.
You'll leave from Toulouse as the starting point of our "unique canal du midi tour".
All types of accommodation (on barges, in a lock boutique hotel or in a treehouse cabin) have been thoroughly selected to answer excellent standards of comfort and cleanliness.
You'll be surprised by the numerous points of interests awaiting you on the route for the enjoyment of young and old alike.
Your day by day program
Toulouse
You'll arrive and settle in your hotel in Toulouse. You'll discover the Pink City from the rooftop where you can enjoy a unique panoramic view over the city. This former cinema converted now into a hotel is located a few steps away from the famous Place du Capitole and the Garonne riverbank. An original way of starting writing the scenario of a perfect holiday!

Night in a *** hotel.
From Toulouse to the Mas of Saintes Puelles (60 km)
After having a generous breakfast and picking up your bikes (if rented they'll be delivered directly at the hotel), you'll reach the cycle path which is in the heart of Toulouse . You'll then discover all the locks that will come one after the other and you'll be charmed by all the small and picturesque harbours during this first stage.
You'll cycle through the utopian village of St Rome and the oval shape lock of Negra.

An approximately 60 km stage.
Night on a barge or in a canal lockhouse.(Based on availability)

From the Mas of Saintes-Puelles to Carcassonne (40/50 km)
You'll cycle through many vineyards during this stage. You'll discover beautiful bastides and you'll follow a narrower and wilder path than the day before along the canal. You'll eventuallly arrive in Carcassonne, an astounding fortified city.
The Cité, a medieval gem, is a bustling and lively citadel all year long. Treat yourself to a home-made traditional cassoulet or its more original version in a pizza!

Night on a barge , in a lockhouse or in a log or treehouse cabin.

About 40 to 50 km during the stage (based on accommodation availabilty at the time of the booking).
From Carcassonne to Paraza (45 km)
You'll go deeper into the heart of the Cathar country while leaving Carcassonne: Occitanie welcomes you with open arms.
Still following the canal as the common thread of your adventure and the locks as the backdrop, you'll slowly get closer to the Mediterranean sea.
You'll stay overnight at Paraza between the Corbieres and the Minervois where the famous engineer Paul Riquet stayed while building the canal. It's also home to the greatest work of art , The Repudre Aqueduct, first aqueduct designed and created by Paul Riquet on the Canal du Midi.

Stage about 45 km.

Night in a Bed and Breakfast.
From Paraza to Agde (65 km)
During your last stage, you'll cycle through the Somail to taste the unique atmosphere of its harbour: you'll discover its antique bookshop home to 50 000 books, a treasure trove for first edition, second-hand and out-of-print books and you'll meet Misses Cradock and her scenography.
You'll then continue through Capestang along the towpath to discover many ingenious engineering structures around the locks such as weirs, siphons, aqueducts before arriving in Agde. Often called the "Black Pearl" of the Mediterranean sea
because of its basalt architecture , the city of Agde will welcome you as a reward before ending this wonderful adventure along the Canal du Midi.

Stage of about 65 km.
Night in a ** hotel.

Possibility to split this stage in 2 with an overnight in Montady after about 30 km from Paraza to Montady and another 35 km from Montady to Agde (See options for the extra night in Montady)
End of the Tour
A return ticket by train is possible from Agde to Toulouse. (30€ for a two-hour journey) Bikes are allowed on board (reservations are sometimes required for full-sized bicycles on certain services).

End of your stay after breakfast.


Departure board
Every day from early March to late October.
Technical information
Starting point
From your hotel in Toulouse.
End
End of your stay in Agde.
Accommodation
Traditional hotels, B&B and guesthouses, barges, lockhouse, horse-drawn caravan, log cabin or treehouse cabin... The comfort standards are equivalent to a 2-star hotel minimum with an ensuite bathroom.
Level of difficulty
Easy tour on a flat cycle path with , on average, daily stages from 40 to 60 km.
Carrying
The following bag (one par person) is transported by vehicle to the next stage.
Options
Departures in July and August. : 25€
Single bedroom accommodation
: 290€
Discount applied for the 3rd person in a 3-person bedroom.
: -50€
Bike (VTC) rental + we also collect the bike you have rented at the end of your stay (On day 6)
: 140€
E-bike rental + we also collect the bike you have rented at the end of your stay (On day 6)
: 170€
Extra night in Montady (Last stage split in two). : 115€
Bike (VTC) rental + we also collect the bike you have rented at the end of your stay (On day 7). : 160€
E-bike rental + we also collect the bike you have rented at the end of your stay (On day 7). : 200€
USB GPS tracking : 25€
Included
All nights in unique accommodation ( barges, locks, treehouse cabins, log cabins, horse-drawn caravans...)
Breakfasts
Luggage transfers
Maps and roadbooks
Not included
All personal means of transports and transfers to the meeting point and from the end of the tour.
Insurances.
Meals:Lunch and dinner.
Return by train from Agde (about 30€ from Agde to Toulouse and about a 2-hour journey)
Bike rentals
Map
Videos
Similar holidays