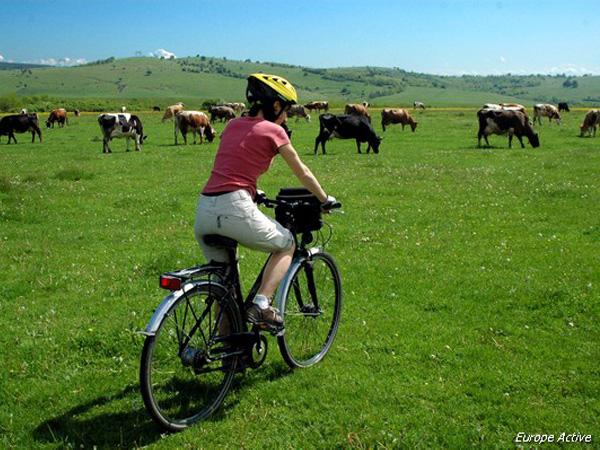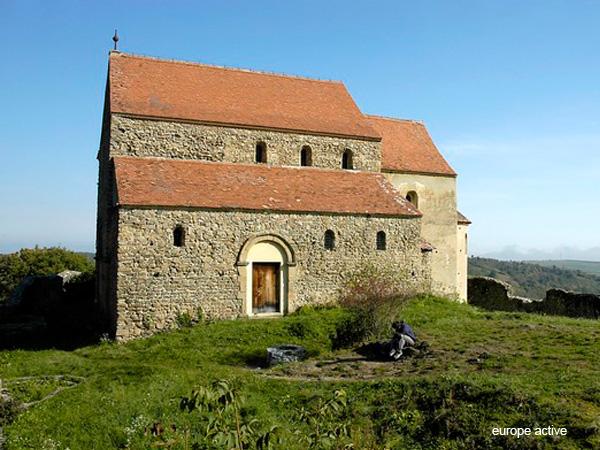 Castles and Saxon Heritages in Transylvania - Luxury version
12 days / 11 nights
Romania - Transylvania - Leisure cycling
Without guide - Comfort
price from
875 €
per pers.
This tour inn to inn in Transylvania introduces you to the Carpathian Mountains and Transylvania, known as a mysterious and spectacular land, famous through Bram Stocker's legend of Dracula and well-known for its forests sheltering so many species of wild plants and animals. On this tour, we could arrange the rental of a high-quality bike and you cycle self-guided from one charming hotel of character to the next, following our detailed roadbook. Your luggage is transported ahead.

As this tour is self-guided, enjoy cycling at your own pace through on quiet roads and country roads discovering the Transylvanian villages with pastel-colored facades.
Your day by day program
Arrival in Bucharest
Arrival in Bucharest Northern Train Station before 2 PM. Train transfer to Zarnesti. Change in Brasov. 2nd train transfer to Zarnesti. Dinner and night in a 2 star family-run guesthouse at the foot of Piatra Craiului mountains.
First day of biking to Fagaras
Transfer in the morning with your bikes at the starting point of your ride. You will ride at the foot of Fagaras Mountains, the highest of the Romanian Carpathians and also known as the 'Transylvanian Alps'. Dinner and night in a 4 star family-run guesthouse.(~55 km)
Riding through the Transylvanian plateau
Today you will ride through the Transylvanian plateau till the medieval city of Sibiu, elected "European cultural capital" in 2007. Night in a 4 star boutique hotel in the city center.(~62 km)
Sibiu
Free morning so you can visit Sibiu, known also as Hermannstadt. You will discover the three historic squares, the evangelic church, the lower and the upper town, the citadel and so many other charming corners of one of the best-preserved medieval cities. The ride from this afternoon will take you to few villages around Sibiu. In one of them you will spend the night. Dinner and night in a 3 star traditional guesthouse.(~27 km)
Sibiu and surroundings
You will cycle today forward these beautiful villages from Marginimea Sibiului, vestiges of a glorious past. Then you will continue the cycling day through oak forests till the salty lakes from Ocna Sibiului. Free access to the swimming pools - freshwater and salty water pools.
You can have an extra night if you want to take advantage of the spa and salty lake that are in the town. Night in a 4 star hotel.(~45 km)

Fortified churches and medieval cities
You will ride to the medieval pretty town of Medias, with Gothic, Renaissance and Baroque architecture. There are opportunities for several detours (between 5 and 18 kilometres) to visit Saxon fortified churches. One of them, Valea Viilor, deserves more than the others to be visited. Here the church is frequented by few remaining Saxons in the area. Frau Schneider, the oldest Saxon from the village will be very honoured to show you around. Dinner and night in a 3 star hotel.(~52 km)
Cycling to Sighisoara citadel
This cycling day will allow you to discover other treasures from Transylvania. You're first stop will be Biertan fortified church, part of UNESCO Heritage, which has graced the country for over a half of century. Then you move on to Sighisoara, one of the few medieval citadels in Europe that is still fully inhabited and also included on the list of UNESCO World Heritage. Discover the old town with its famous clock tower, which initially served as the main entrance to the citadel, but also covered stairs, medieval streets, the house where Vlad Dracul, the father of Vlad the Impaler known by Bram Stocker's legend as Dracula, was born. Night in a 3 star charming hotel. (2 rides available:~48 or 66 km)
Transylvanian countryside
Today you will cycle through the Transylvanian hills to Apold village which also has a lovely fortified church. Then you will arrive in Soars village where you will spend the night. The country road will take you to remote and bucolic areas where you will surely see shepherds watching over their sheep herds. Dinner and night in a 2 star farmhouse guesthouse.(~50 km)
Riding to the South
You will ride to the South, till a small typical village cold Ohaba where you can enjoy at the end of the day the visit the oldest flour mill in the county powered by a water mill. Dinner and night in a 2 star guesthouse.(~34 km)


Riding back to Zarnesti
You will ride to Zarnesti along a valley that separates 2 ranges of mountains so close and so different. One is Persani mountains, small charming and hidden traditional villages and scattered houses, the other one are Fagaras Mountains, seen from another angle. Dinner and night in the same place than D1.(~42 km)
In the heart of Piatra Craiului mountains
In your last day of cycling in Transylvania will bring you at the foot of the Bucegi Mountains, a border place between Transylvania and Wallachia. As a protection of this frontier the inhabitants build the Bran Castle, also known as Dracula's Castle. Even if it wasn't the real castle of Vlad the Impaler (Dracula), it belonged later to another famous person, Queen Maria, a grand-daughter of Queen Victoria and of Tsar Nicholas II. Optional ride to visit the Rasnov Castle, around 15 kilometres away from Bran. Dinner and night in the same place as the previous day.(~ 35 km)
Departure to Bucharest
Departure to Bucharest after the breakfast. End of the trip.
Departure board
From April to the end of October.
Technical information
Accommodation
High-quality hotels of character
5 nights in 2 star charming family-run guesthouses
3 nights in 3 star hotels of character
3 nights in 4 star luxury hotels
Level of difficulty
12 days of which 10 of cycling. Medium level (from 27 to 66 Km / day, with some climbs).
Carrying
Luggage transported from hotel to hotel. You only carry your day pack!
Options
Bike rental : 95€
Single supplement : 155€
Extra-night in a 2* hotel in Brasov : 45€
Extra-night in a 3* hotel in Bucharest or a 2* hotel in Bucharest : 50€
GPS tracks on USB stick : 25€
Included
- 11 breakfasts, 6 picnics and 7 dinners
- detailed cycling notes with maps
- 24h/24 emergency assistance
Not included
- meals like indicated
- drinks
- items of personal nature
- flights
- insurance