Bike rental in Corsica
We operate bike rental service from our offices in Corsica, near Bastia. Renting a bike in Bucharest is also possible upon request. We rent hybrid, mountain, electric and road bikes.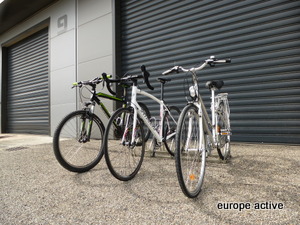 In Corsica
We have a range of our own bicycles that we use for clients that have booked a cycling trip through us. Depending upon the bookings, these bicycles are also available for general hire.
We have hybrid bikes, for use on roads and well maintained tracks. These are good, sturdy, comfortable bikes with 21 gears. Suitable for all and perfect for hilly conditions. We also have a selection of mountain bikes for off-roading, and road bikes for those wishing for a faster and smoother experience on the roads.
We also provide cycling accessories: helmets, double back panniers, etc.